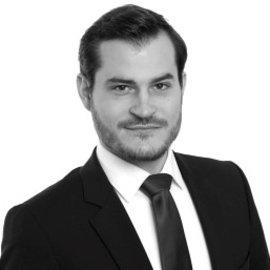 Industrial energy management
+49 (0) 6151 16-21715
fax +49 (0) 6151 16-21712
S3|10 304
Landgraf-Georg-Str. 4
64283 Darmstadt
Field of Research: Industrial energy management, CO2 intensity
Keywords: mulit-modal energy system modelling, carbon intensity of energy, energy conversion, energy storages
Our research goal is the development of methods for further increase the flexibilization of the energy demand, which is one of the most important keys to a successful Energiewende. Therefore, we are focusing on the enhancement of transparency of multi-modal energy systems. We concentrate on the development and optimization of detailed digital replica of complex multi-modal energy related industrial systems and processes. Besides this, we aim for a renewable as possible supply, use and conversion of energy and thereby as climaneutral as possible at minimal costs.
To achieve this we simplify energy systems in such a way that we can solve it by mixed-integer linear programming (MILP) or linear programming (LP). Our whole system analysis is done in our own system modelling and optimization tool (similar to OSeMOSYS or oemof)
Our main research goals can be summarized as followed:
Establish the method of the "digital twin" in context of digitization of energy systems
Optimizing the system setup to minimize cost and emissions by adding new technologies or rearrange the use of available ones
Uncertainty quantification (to obtain ±XX% cost and/or CO2 emission)
Development of a sensitivity analysis for small system constraint changes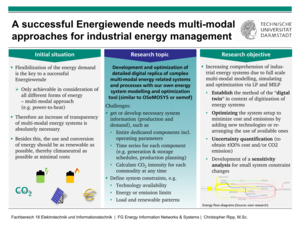 (click to enlarge)
Supervisor: Christopher Ripp
Earliest start: immediately
Type: Master Theses
EINS develops together with an industrial partner a tool to simulate and optimize future multi-modal energy systems. This is yields consistent master plans of the Energiewende that directly shape the political and economic discussions in the energy sector. In this project the existing tool that is based on mixed-integer linear programming shall be modified to support the decomposition of the simulation / optimization work. This is necessary for large models, such as one that models all energy sectors in hourly resolution from now until 2050, which leads to very large problems (tens of millions of variables). For different general purpose decomposition approaches (Benders, Wolfe-Dantzig) it shall be examined how to optimally apply them to the problem, i.e. which splits are optimal. At least one algorithm shall be implemented in the existing framework and tested for its properties. Optimally, one could even develop problem- specific novel decomposition approaches.
Since 2017: PhD student at EINS
2014 - 2017 KONEXUS Consulting Group GmbH, Senior Consultant

Leading Projectmanager of strategy and management consulting projects for several german and austrian energy providers

Development of dynamic customer, energy consumption and sales models

Several other business projects in the energy domain, such as energy procurement, controlling, businessplan development for spin-offs, etc.

2013 Master thesis "Analysis of the electrical energy requirements of the GSI facility" at the TU Darmstadt in cooperation with GSI (Helmholtzentrum für Schwerionenforschung)

2011 - 2013 Master degree in technical physics at the TU Darmstadt

2005 - 2011 Bachelor degree in physics at the TU Darmstadt